One of my favorite things about grocery shopping is checking out the covers of food magazines at the checkout stands. I guess that's not surprising, given the idea of this website, but it's really something I've always looked forward to. Taste of Home has one of the mini magazines that sit at the checkout counter. They're filled with user-submitted tear-out recipe cards from home cooks. And the recipes are completely focused on a family-friendly vibe.
This issue of Taste of Home (Grilling) was featured last summer, but of course it still applies to grilling ideas for summer 2013. Referred to in the magazine as "Party on a Stick," these adorable Bacon and Cheese Meatball Sliders are featured on the grilling cover. My son took one look at those and asked if I'd make them for him and his friends. Sounded like a great idea to me, so that's what I did! Please read my notes below to see what I thought of this recipe.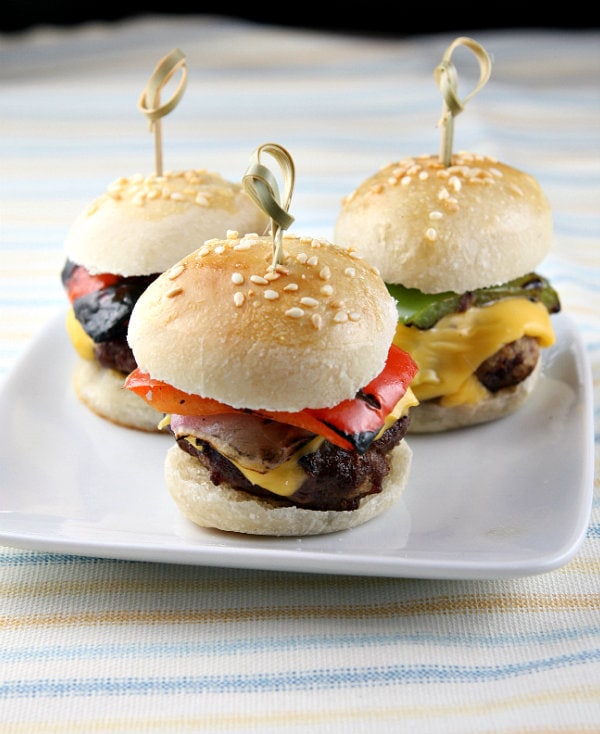 Bacon and Cheese Meatball Sliders

Yield: 24 mini sliders

Prep Time: 45 min + rising time

Cook Time: 10 min

Ingredients:

12 frozen bread dough dinner rolls
1 large egg
1 teaspoon water
1 tablespoon sesame seeds

SLIDER KABOBS:
3/4 cup seasoned breadcrumbs
6 bacon strips, cooked and crumbled
2 large eggs, lightly beaten
1 1/2 teaspoons Worcestershire sauce
1/2 teaspoon garlic salt
1 1/2 pounds ground sirloin
1 medium sweet red pepper or green pepper, cut into 1-inch pieces
1 small red onion, cut into 1-inch pieces
6 slices American cheese, cut into quarters

Directions:

1. Thaw dough according to package directions. Cut each roll in half; reshape portions into balls. Place 2-inches apart on lightly greased baking sheets. Cover with clean kitchen towels; let rise in a warm place until almost doubled, about 30 minutes.

2. Uncover the dough; gently press to flatten slightly. Whisk the egg and water; brush over the tops. Sprinkle with sesame seeds. Bake at 400 degrees F. for 8 to 10 minutes or until golden brown. Remove to wire racks.

3. In a large bowl, combine the first five kabob ingredients. Crumble beef over mixture and mix well. Shape into 24 little patties. On 24 metal or soaked wooden skewers, alternately thread patties, red pepper and onion, inserting patties sideways.

4. Moisten a paper towel with cooking oil; using long-handled tongs, lightly coat the grill rack. Grill kabobs, covered, over medium-high heat for 4 to 5 minutes on each side or until patties are no longer pink. Remove from the grill; immediately top patties with cheese. Cut buns in half; assemble sliders.

Tips:

*I used Bridgford brand frozen rolls for this recipe.
*My little rolls took about 45 minutes to rise.
*I used 85% lean ground sirloin (a little more fat keeps the burgers from drying out)
*I personally loved including the pepper and onion, but it's not a very kid-friendly idea.
*American cheese is suggested, but I'd go with something better- sharp cheddar or gouda.
The results:
Initially, I was a little weary of using frozen rolls. That's not a product that I typically buy and use in my kitchen. The frozen rolls, however, were perfect for this recipe. I was expecting these to be "slider-sized" burgers, but they were teeny tiny, one or two bite burgers. That actually really made this recipe fun and unique. They were completely adorable with the tiny sesame seed buns, and they were delicious too. Everyone loved them. The recipe calls for American cheese- that's the only thing I'd change. Provolone, sharp cheddar or gouda would be more flavorful, especially for adult guests.
Did this recipe deserve the cover spotlight?
Yes! This was such a fun idea for a summer recipe. They were perfect for the cover of a grilling-themed magazine, and grilling the tiny burgers on skewers along with the pepper and onion was a brilliant idea!
Warning
: Use of undefined constant rand - assumed 'rand' (this will throw an Error in a future version of PHP) in
/var/www/clients/client0/web83/web/wp-content/themes/culinarycovers/single.php
on line
72
wp_reset_query(); ?>
11 Responses to "Southwest Frito Pie"
LOVE! Fritos make everything better!

I love taco salad so I'd be all over this. My mom is making taco salad for our picnic on the 4th and I'm going to show her this recipe – she might want to change it up! And you bring up a good point about skipping fast food w/ meals that come together quickly like this!

We love dishes with southwest flavors so this would be a huge hit here! Pinning!

Looks good. Have you tried the low salt fritos? Excellent and still salty. We don't buy anything else anymore.

I haven't tried them yet, but thanks for letting me know!

Now this is a dish that my family would gobble up in literally minutes. I may have to make some tonight for our 4th of July BBQ.

That looks amazing!

Didn't know they made low salt frito's will try to find them. They really are a little to salty for me! Iam going to make this soon!

Add enchilada sauce and a 1/2 cup cheddar to the meat, its delicious! My family loves it.

Hi recipe girl, you have some of the best recipes. I love anything with tacos, pizza, well just anything from desserts to soups to comfort foods. I've come to the right girl, thank you for sharing!!!

Trying this tonight!!! Let's see what the jury (family) thinks. Thanks for the recipe!!
Leave a Comment